MIGS News / Updates
To keep you informed, we've created a page for notes from our most recent MIGS news..
October 27, 2012
Mid Illinois Ghost Society attended the 2nd Annual Central Illinois Paranormal Meet & Greet and Psychic Fair, hosted by our friends IMPS and MIPA. It was a great event and we look forward to attending annually. Great job IMPS and MIPA!!! To view a few photos from the event, please click here.
September 5, 2012
Investigation. Case # 425PitPik - Private Residence.
August 31, 2012
"Paranormal 101"
A brand new type of event is planned for August 31 at Ashmore Estates. Paranormal 101. This is the perfect event for those of you that love those paranormal shows but are just paranormal novices. Really would like to get into the paranormal world and get your hands dirty investigating. We can show you the ropes. This is like "Paranormal for Dummies". Come out and have a great time and learn how to use EMF meters and all the cool toys that the pros use. Tickets for this First time event are only $50 advance purchase and $65 at the door (Reservations required). This is a limited ticketing event and scheduled times. Click on the link above for all the details. Contact the Spook Meister for your tickets. Mid Illinois Ghost Society, Illinois Metaphysical and Paranormal Society and Ashmore Estates are hosting this event . For more information on the event, go to the Upcoming Events page. For more infomation about the location of this event, go to the Ashmore Estates page
August 17, 2012
Investigation. Case #412MatCol. Private Residence.
March 10, 2012
We regret to announce that we have lost a couple of our long-time members, due to personal reasons. They have been great assets to the MIGS team and have helped shape this group into the great team we have today! They will be missed and the rest of the MIGS team would like to extend our best wishes to both of them. On another note, we are pleased to announce the addition of three new members that have joined the MIGS team! We are looking forward to the April investigation where they will be introduced to the other members of MIGS, as well as assist in investigating one of our favorite locations!
October 23, 2011
News-Progress sponsors paranormal contest The News-Progress is sponsoring a paranormal investigation site contest. Submissions for a home, business or public location in Moultrie County that may be haunted are being accepted until midnight Oct. 16. The winning location will be announced in the Oct. 19 issue and the free investigation by local ghost hunters MIGS and staff members of the News-Progress will take place on Oct. 23...... The findings are scheduled to be published in the Oct. 26 edition.
September 23, 2011
Mid Illinois Ghost Society was featured on the 2011 fall premier episode of the Travel Channel's Ghost Adventures. Unfortunately, not all MIGS members were able to attend the interview, due to scheduling conflicts. MIGS team members were excited to have such an amazing opportunity!! :-)
April 2011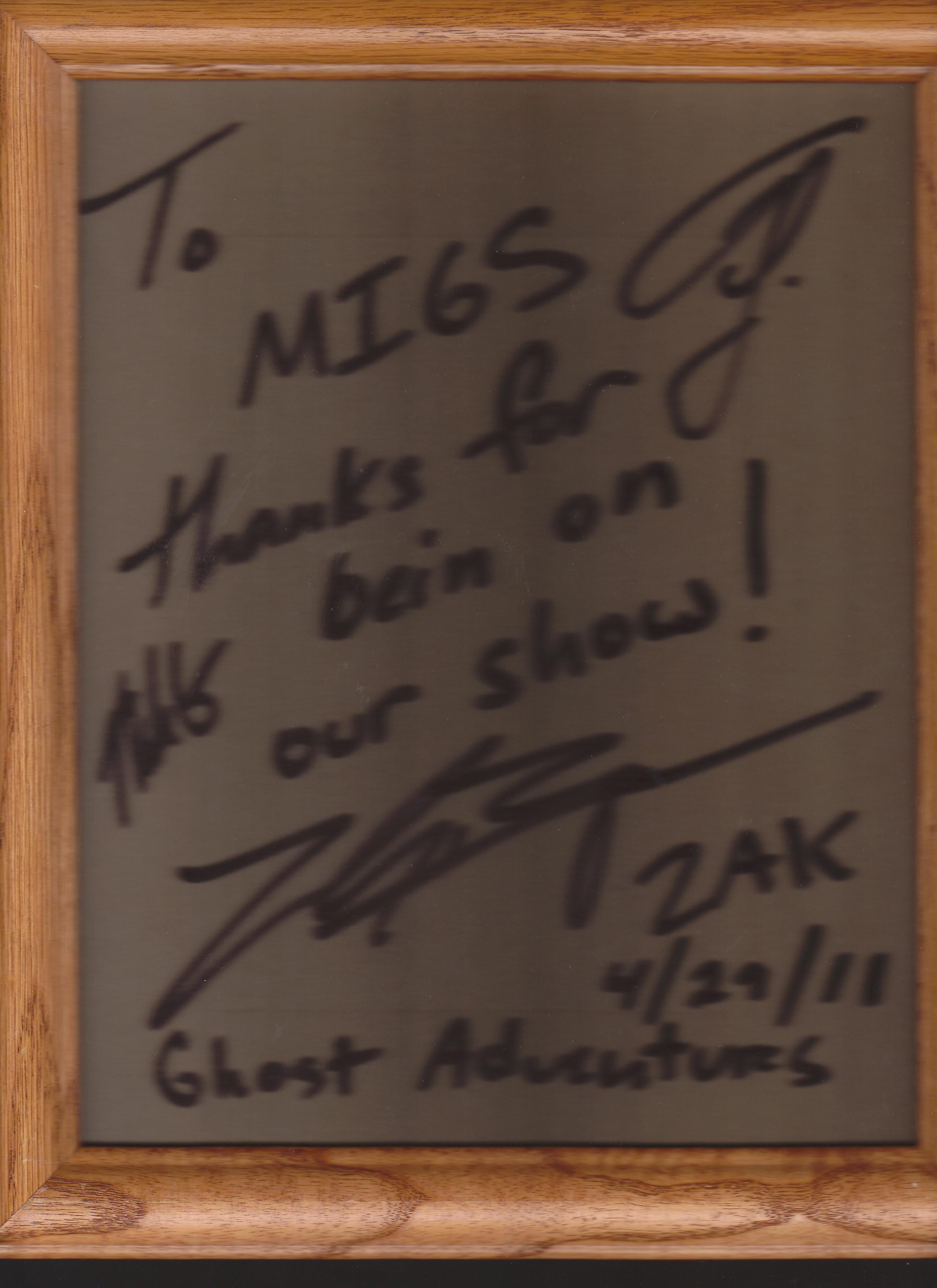 Ghost Adventures interviews MIGS
We are excited to announce that the crew from Ghost Adventures, which is aired on the Travel Channel, was at Ashmore Estates filming their investigation of this Central Illinois hotspot. Six members of Mid Illinois Ghost Society met with Zak, Nick, and Aaron to be filmed for an interview. Several members of MIGS have experienced paranormal activity in Ashmore Estate, both during paranormal investigations and while volunteering as actors in the annual October haunted house. We are excited that one member in our group, Bret, was personally interviewed (in addition to the group interview). As soon as we know the date the show will be aired, we will post information.
If you are interested in a flashlight tour or conducting a paranormal investigation of Ashmore Estates, please contact Scott Kelley at the links below: